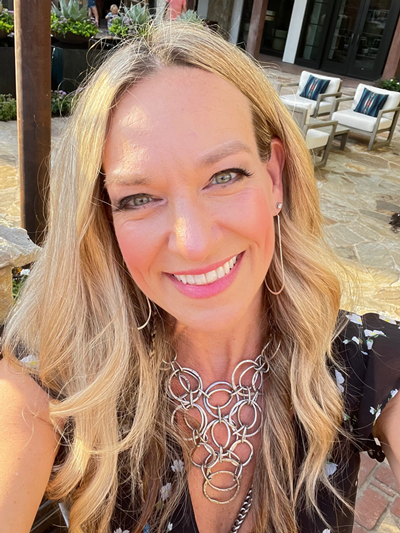 Angela Speed
Digital-focused Design and Team Leadership
The Email Journey
Discover | Define | Develop | Deliver
Email UX is about keeping the email as simple as possible
Based on studies, you have 50 milliseconds to capture a user's attention in an email. You then have 11 seconds, at most, to communicate your message. Writing in a concise and coherent manner is difficult and especially in an email. I'm going to touch on a few areas to improve the UX of your content, while sharing some of My Email experience.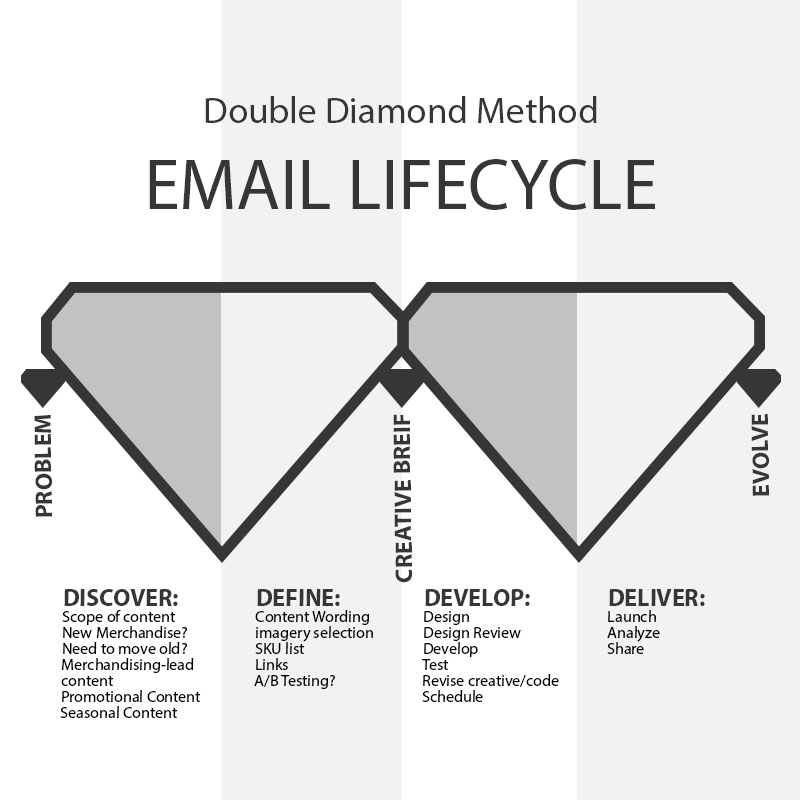 Email Lifecycle Thoughts
There are many stakeholders involved andconsiderations that occur before an email is launched. Below are just a few considerations
Guiding Questions:
What is on the promotional calender?

Is there merchandise that needs to be moved/promoted?

Is there credit promotion/awareness needed?

Will the email to be an A/B test?

Is there personalization we can leverage?

What is the Launch Date?

What is going to be on the Website home page? How can we align to what is going to be live on the launch date?

What did well in the past that we can build upon?

Consider the previous and next emails to be sent, so we can vary the content presented to the customer.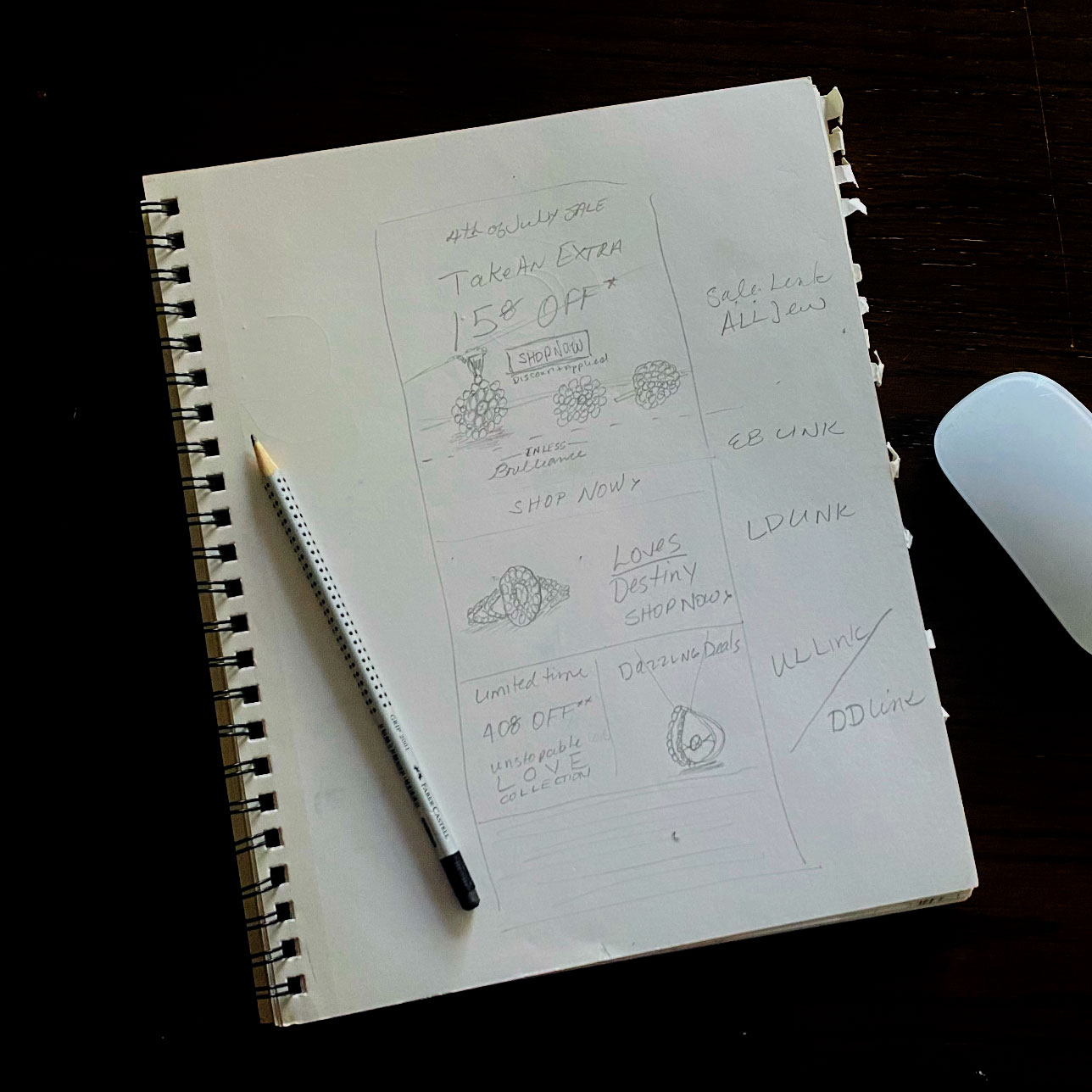 Sketch it out
I usually start the design process with information from the Merchants on collections and products they want to feature, promotions running at the time, and verified in stock SKUs.
Guiding Questions:
Define Campaign type (segmentation, personalization and trigger-based campaigns)

Choose Template to vary content format

Plan for dynamic content personalization sections

Call to Action needs to be above the fold

Stagger the content for visual interest and drawing the eye down the design

Mix of photography and online imagery, providing image links in breif

Some promotions on solid or lifestyle background

Define asterisks for matching in terms

provide links for definition

Provide seo content

plan for AB testing

Principles of email Design
Like any email marketing campaign, there is no foolproof way of creating campaigns that always convert. As a marketer, you should experiment with different designs to see what subscribers enjoy, and what they don't spend time at all. There are some essential principles of email design, though, that will help you create the foundation of your email, and push for more conversions.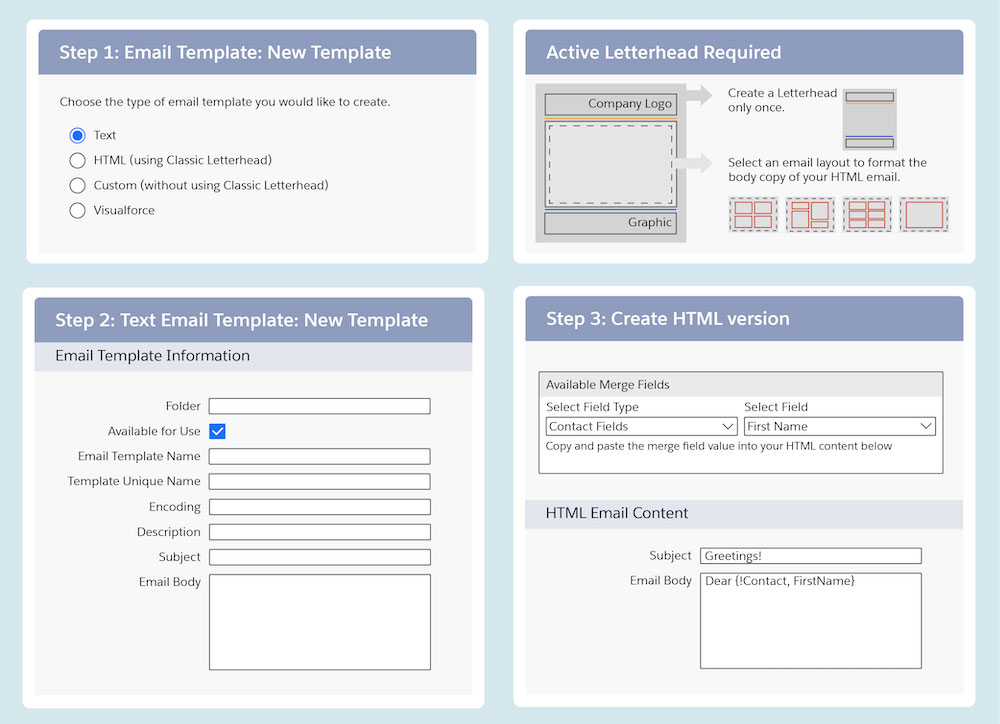 Creating a great email design is no easy task, and there is no one-size-fits-all approach to designing emails that work. You have to keep experimenting and finding ways to optimize the design as per the engagement rate of your subscribers, and over time you can even improve your open rate.
Focus your message: Some of the most effective emails have one clear message. If you have multiple messages to send, try breaking them up into a series of emails.
Be concise: Reduce the length of your email until you can simplify no more.
Create a hierarchy: Put the most important information first for people who are short on time.
Break it up: Use headings and bulleted lists to divide content into sections that are easy to understand. This helps scanners and skimmers.
Link out: If you have a lot of information to convey, link to a page on your website (or someone else's website) where subscribers can learn more.
Signet Jewelers Email Design & Marketing Stats & Skills
Strategic planning for email & SMS calendars for Zales, Zales Outlet, Gordon's Jewelers, Banter by Piercing Pagoda, and Canadian Brands, Peoples & Mappins Jewellers. Collaborate cross-functionally to develop impactful emails driving consistent YoY revenue growth.
FY22 Revenue increased +159% (Year ending 2022, feb-Jan)

FY21 Revenue increased +73% (Year ending 2021, feb-Jan, during Covid store shutdowns)

FY20 Revenue increased +23% (Year ending 2020, feb-Jan)
• Develop comprehensive creative briefs encompassing direction, copy, and photography options for Zales, Zales Outlet, Gordon's Jewelers, Banter by Piercing Pagoda, and Canadian Brands, Peoples & Mappins Jewellers.
• Collaborate seamlessly with cross-functional teams to ensure consistent design, promotional messaging, and branding for each brand.
• Partner closely with brand managers to ensure prominent feature of exclusive collections like Disney, Vera Wang, Marilyn Monroe, and more within emails, maintaining alignment with brand guidelines.
• Successfully initiate and nurture SMS programs for Zales, Zales Outlet, Gordon's Jewelers, Banter by Piercing Pagoda, and Canadian Brands, Peoples & Mappins Jewellers, achieving an impressive 1+ million subscribers in a single year.
• Drive the formulation and execution of acquisition strategies for email and SMS campaigns, working in tandem with Attentive to leverage website pop-ups that resulted in a +67% YoY (2020 – 2021) growth of the email list.
• Strategically innovate and continuously elevate the email program, implementing design enhancements and personalized elements, including:
Streamlined email design with a 4-grid structure that efficiently pulls product images & pricing from the website.

Live Poll re-targeting

Dynamic Category Abandon Banner and recently browsed re-targeting

Price-Based retargeting tailored to the customer's last browsed price point.

Interactive scratch-offs, Dynamic name personalization, countdown timers, subject line testing, time of day testing, and more.
• Analyze post-send reports, leveraging metrics and data analysis to identify avenues for optimizing existing email programs.
• Foster relationships with third-party vendors such as Moveable Ink, Attentive, Sailthru to pioneer email design and technical integrations.
• Monitor and optimize deliverability metrics and inbox placement for each brand, ensuring stringent adherence to best practices while maintaining list hygiene.
Skills: Mobile Marketing · Marketing Copy · HTML · Email Strategy · Email List Building · Email Campaigning · Email Marketing · Digital Marketing · Email Design · Technical Integrations